DSTRKT 5 offers a stark glimpse into Boomtown's future.
Arcadia's Aftermath
Edit
Muuti's Reign
Edit
Welcome to the steamy underworld of DSTRKT 5, a no-go zone for authorities, ruled with a cyborg fist by the half human-half alien Mob Boss Muuti. Delve deep into this underworld for a journey through drum & bass, house, jungle and heavy bass in the abundance of mind-bending venues and shady sideshows.
A world that suffers the consequences of present-day actions, as its citizens struggle to survive on the little natural resources that are left. A district where virtually all remnants of nature have been depleted but the one bastion of hope, the 'beating heart' of the district 'The Last Tree' stands strong, worshipped by everyone, this beacon of mother nature surely holds the key to humanity's survival.
DSTRKT 5 with its bounty of illicit vices exists below the gaze of the authorities. The deluge of neon signs cutting through the darkness offer fleeting pleasures of all kinds; little is off-limits and almost any fantasy can be indulged for the right price. It has earned its reputation as the place to seek what others cannot find or will not sell.
When the aliens first landed the people unanimously joined in celebration as new technologies quickly began to appear amongst the ramshackle high-rises of this broken district.
That was until the disease left it to fend for itself, under quarantine. Local mob boss Muuti now controls this area. It is he the afflicted turned to, trading their humanity for salvation. Keeping the virus dormant through illegal implants based on alien technology, built using the one plentiful resource around here, scrap. This new breed of maligned being, known as Halflings, must stay ahead of the local bounty hunters Deckard and Hassan who seek to bring them to justice.[1]
Muuti continues to expand his criminal empire through the trade of illegal human modifications. Fusing scrap and Alien technology, the modifications set to enhance the human experience by increasing skills, abilities and powers beyond that of the average human ability.
Those who seek modification do so at their own risk, as each modification becomes increasingly addictive, as the addiction grows, so does Muuti's wealth and power. [2]
Hacking has now become a battle on all fronts between the real-world corruption, the virtual control of privacy, and who's to be able to access your mind. If you are fortunate to find Muuti's Office, be careful as once he has done you a favour you will be in his pocket for life.[3]
This period of DSTRKT 5's story seems to be set between Arcadia leaving and The Last Tree. It is sometimes referenced as being around approximately the year 2122. [3]
The Church of Noctua
Edit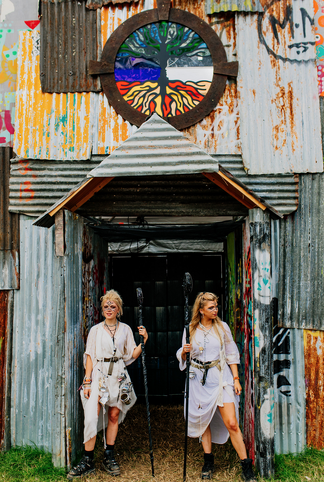 100s of years have passed, and nothing exists beyond the wastelands. Natural resources are scarce and everything that can be recycled has value.
[1]
Key Venues
Edit
References
Edit
↑ https://web.archive.org/web/20160815202106/http://www.boomtownfair.co.uk/city-guide/city-districts/downtown-1
All items (24)
Community content is available under
CC-BY-SA
unless otherwise noted.