Timeline
Edit
About Romeo
Edit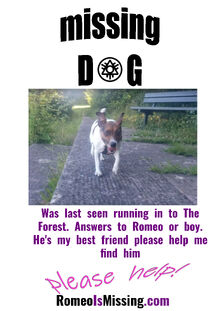 Romeo is an 8-year old Jack Russel. He is white with a brown head with brown eyes. He has a black leather collar
with metal studs. He responds to "boy" and "Romeo" and is very friendly with dogs and people but chases cats. He doesn't like to be left alone and he loves to dig holes so he might have dug under a fence in to your garden! I've had him as long as I can remember. He likes bones, cheese, ducks and children. Please help me get my dog back!!!
❤️💛💚💙🧡
Charlie's Diary
Edit
Wednesday January 29
Edit
Romeo still lost. 💔 I put posters up all over town. Hope someone has taken him in. Going to go back to the park today and tomorrow until he comes back.
Thursday January 30
Edit
Went to the animal shelter and the park again, still no sign of Romeo. He's a good dog I just want him to come back. Mum is saying I should be ready for him not to be found but I don't want to.
Friday February 31
Edit
Still no Romeo. I cried all night. 😭 I'm going to go down to the park again tomorrow. I don't know where he could have gone. The big Area 404 fence is so tall no way he got over it. And he hates the rest of town with all the buildings.
Saturday February 1
Edit
There's a hole in the Area 404 fence!! He must have gone through there!!! It's late now but I'm going to get my supplies together and go and find him first thing tomorrow. 🍀
Sunday February 2
Edit
He's in there I know it. I'm going in. Mum and dad will go crazy if they find out. 😡 I have to be quick. He must be lost or he would have found his way back. How bad could it really be in there?? It's just silent all the time... 🤷‍ Setting off now. Hopefully I'll find him today but I'm going for as long as it takes. He's a good dog.
Community content is available under
CC-BY-SA
unless otherwise noted.