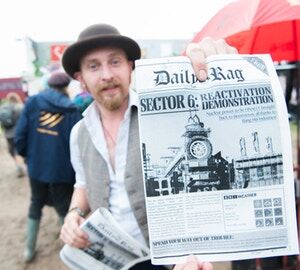 Rob Boggins and his team of intrepid reporters, over-aged paperboys and late-night type setting gremlins will be reporting all the latest news, hottest gossip and in-depth features on the pages of The Daily Rag. Boomtown's only (and best) newspaper. Find our offices in The Main Drag and Town Centre or pick up your free paper from our roving paperboys each day. The Daily Rag; Because who says print journalism is dead?!
The Daily Rag is the place to go for information on the maze. Here they will guide you by giving you clues and pointing you in the right direction.
The Daily Rag is printed at Boomtown and contains storyline information, weather & other general news. There is a new issue every day.
Previous Owners/Editors of the newspaper include Son and Sons and Bang Hai Media.
An official archive of Daily Rag back issues and editions can be found at https://issuu.com/boomtownfair4
Community content is available under
CC-BY-SA
unless otherwise noted.