The renegade Crew of the
Jolly Dodger,
A band of Misfits and Mischief makers. A collective of fine sea faring games masters from the Streets of Boomtowns
Oldtown
to the beautiful grounds and Glen of Kelburn Castle. We love nothing more than to Challenge you to games of agility and wit, hooks, pegs, young, old you're all welcome to try and win some of our gold although the chances are slim as we cheat to win with a hull full of Barrels filled with Rum, fun and a yo ho ho.
[1]
Return of the The Jolly Dodger [2] Edit
In
Chapter 6 and 7
the pirates returned after previously having been banished from the town. They sailed into the port at
Oldtown
aboard the
Jolly Dodger
and laid siege to the harbour, waging a fierce battle. Some said that the great
Captain Francisco
had returned, some thought it was a ghost ship, no-one could be sure.
Thomas Crook's Travel Agents (And Pirate Cruises) [3] Edit
Salty dogs and land sharks! This be yer honourable Dock-Side Travel Agent. Visit out shop, a tour service you can trust, with sea shanties and sounds of the oceans. All are welcome into our Den... Shop... Let one of our bucky-neers assist you with your travel plans, with many a fine location in our wondrous Boomtown and beyond. Guaranteed to point ya in the right direction...maybe.
Disclaimer: Pirate cruises are not responsible for scurvy, gangrene, shark bites, siege or imprisonment. Land lubbers must choose their preferred method of limb replacement (hook or peg) before boarding.
Home for Destitute Pirates [4] Edit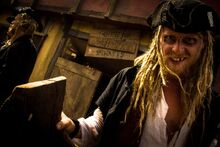 Thomas Crook 'Home for destitute Pirates'. Where once stood the proud travel agent Thomas Crook, run by the renegade crew of the Jolly Dodger, now stands a dilapidated building, a last resort, a safe haven for the few pirates that remain. Growing pressures from Bang Hai, a mutiny, and a minor indiscretion at The Bank did not benefit them as much as hoped... But, never fear, all is not lost! Where there's a pirate, there's a way!
Top Soil Traders
Edit
At Thomas Crooks Top Soil Traders we have only the Finest Growth powder going,
we don't artificial anything especially Intelligence (AMI), all our soil is naturally inseminated to provide only the most fertile soil in town!!! Dream of those prize winning turnips, dream no more......[5]
Top Soil Traders: Prices that will make you soil yerself.
Notable Pirates
Edit
References
Edit
Community content is available under
CC-BY-SA
unless otherwise noted.